Descending Dove Nurse Midwifery Inc.
Jyl Krentz, MN, ARNP,CNM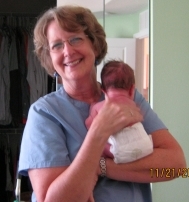 Certified Nurse-Midwife serving the Treasure Coast of Florida offering complete Homebirth, Pregnancy and Well Woman GYN care.

January 5, 2016 Now accepting clients to care ! I had a lovely sabbatical and am happy to return to serving families on the Treasure Coast. Call me and we'll get started!
Serving clients on the Treasure Coast including Jupiter, Stuart, , Port Saint Lucie, Martin, St. Lucie Counties

Complete pregnancy care, water birth, home birth, selected VBAC, OB, Gynecology care and Well woman annual care.
Welcome!

Having a baby or planning to? Pregnancy care with a CNM and home birth are great options! I consider home birth to be an "upgrade" for the best birth possible. You the family can have much more control over your circumstances and avoid interventions. Here is some information for your consideration.

Certified Nurse Midwives are skilled specialists in normal pregnancy,vaginal birth, and care of newborns. We carefully watch and guide,vigilant for potential complications, and helping each mother keep her pregnancy healthy and normal, assisting each family to give birth in the place and manner of their choice. Want to have the baby in water? Or in your own bed? We can help you do that safely. The safety of you and your baby is our number 1 consideration. I have additional training as a nurse practitioner and can provide primary care,annual checkups, GYN care and family planning before pregnancy and after the birth.
At my practice, I focus on service and individual attention to clients while providing excellent healthcare. We are directly available to you throughout your pregnancy and will be with you for your labor and help you deliver your baby.. I offer a knowledgeable staff, safe and proven procedures, and a safe pregnancy experience for you and your family! We offer a FREE one hour consultation to discuss your birthing options and have you meet the midwife and ask any questions you have.
Give us a call!
Jyl Krentz, MN, CNM
330 Holly Ave

Port Saint Lucie FL 34952

jylcnm@gmail.com
772 224 8929 www.youtube.com/watch?v=9LIdYEhuXL8
Office Hours:Tuesdays 10am-8 pm

flexible appointment times for your convenience
Please contact us with any questions or to get started receiving care!